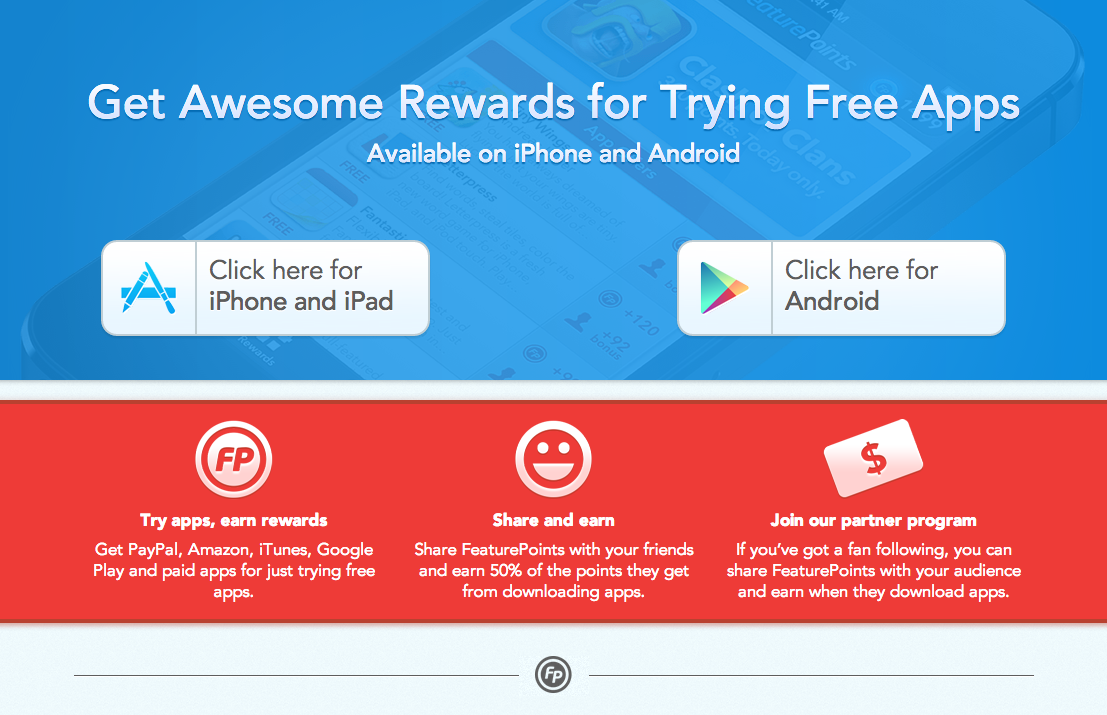 In this guide we will see another service that allows you to gain free gifts cards for iTunes, Google Play, Steam, Paypal and so on. I'm talking about FeaturePoints. As we have already seen, in this post, how these kind of services works and a list of my preferred ones, let's start!
Requirements
An iOS or Android (or Windows Phone? Let me know with a comment if it's working!) device
An internet access
About 2 minutes of your time
Let's start!
First of all you have to open this post on your smartphone, so write this url on your browser (I suggest you to use Safari on iOS, otherwise some offers will not work) or just scan the qr code below:

bit.ly/fpointstden

Then, when you are from your smartphone just tap on this link to start using FeaturePoints with 50 free credits! (Only with that link, if also the service will ask you for an invite code just input this: 4KT3W6 to receive the free points)

Now you'll be prompted to download the official FeaturePoint app, so let's click on Download

Let's open the app and We will see the FeaturePoints' home page: now we can start downloading offered apps by tapping on them gaining points, just try to download your first suggested app!

If you tap on whatever app you will see how should you do to gain points, in my case I have to use the app for 2 minutes. Tap to "Download App" to start downloading

I suggest you to enable notification, so you will know when the points will be added to your account and you can close the app (and uninstalling if you don't like it)

By tapping on "Rewards" we can see every kind of gift card that we can redeem with our points but we have to check that our country is correct, otherwise we won't able to redeem the card if the currency is different from our account's one.